Doc Holiday Cola - Drink Review
By Widge - posted 06.29.05 @ 11:45 pm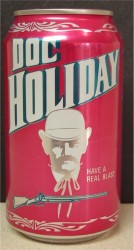 Explanation: No, you're not hallucinating. That is a can I acquired in Tombstone, Arizona. It's apparently "prepared locally" in Tucson. And yes, it says "Doc Holiday" on it. And it's a drink. Well, was a drink. I have since finished it off. And no, I'm not sure why the second L is missing.
Why did I purchase this? Because it's my duty as webmaster of this freaking asylum to try strange and weird caffeinated drinks. And considering this one says on one side of the can "Have a real blast" and on the other side it says "Double barrels of flavor," I knew this needed thorough investigation and an in-depth review.
In-Depth Review: Eh. Tastes like Dr. Pepper.

Read More About:
Keep Browsing:
« 27 Second Review: Land of the Dead | Thick As Thieves (1974) - DVD Review »
A Mob Numbering 15
»
1.

It should have been Huckleberry flavored.

Comment by Siege — June 30, 2005 @ 12:45 am

2.

Thanks for reviewing this. I've been seeing 12 packs of this on the shelves at the Payson Bashas, and wasn't sure what it was supposed to taste like. If it's a Dr. Pepper rip off, then I don't mind trying it. They don't exactly give any indication of it's flavor on the package, do they?

Comment by Stacey E — February 25, 2008 @ 3:47 pm

3.

Some of my earliest memories are going to Joe's cafe in Globe, AZ with my grandpa and drinking Doc Holiday. I stared drinking Dr. Pepper because I couldn't find it in Phoenix.

Comment by Katie H. — April 15, 2009 @ 6:05 pm

4.

I just thought I would search for Doc Holiday soda. WHY you may ask? Because YEARS ad YEARS ago when it first came out I was cast in one of their commercials. I'm not even sure if it ever aired but it was a very fun day of playing a salon girl. I enjoyed the soda and wished it was for sale here in Florida. I do think it tastes a bit like Dr. Pepper and I do believe they were sued for being too much like Dr. Pepper, even the name. The only place I had ever had it was in AZ and of course I had to get some when I saw it.

Comment by Sorsha — June 8, 2009 @ 9:32 pm

5.

Sorsha: That's awesome. Of course, I immediately went to YouTube to see if I could find there, but no dice. If somebody has a copy of it--assuming it aired--please post the info here.

Comment by Widge — June 9, 2009 @ 11:18 am

6.

Doc Holiday is bottled by South Eastern Bottling Company in Safford Arizona. Check them out on Facebook. Search Doc Holiday Soda for their Fan Page. Doc Holiday is one of the best Sodas around.

Comment by Ragwin — November 10, 2009 @ 4:00 pm

7.

This is an awesome soda. I drank it growing up in Safford Az. I didn't know it was only made in the town where I lived. Every time I go back to Safford and go to see a movie I always get a Doc Holiday.The movie theater is the only place I see it now. It's yummy! I wish I could buy it where I live.

Comment by Carla — January 1, 2010 @ 11:05 pm

8.

I love Doc Holiday! I started drinking this when i was a kid and we vacationed with some friends in Safford AZ. I live in the midwest and wished we had it here. It is very yummy!

Comment by Holly — February 11, 2010 @ 5:55 pm

9.

I had Doc Holiday when I lived in Arizona for four years back in the 90's.Now I'm back in Oregon where I grow up and I miss that stuff. I wish I could find a way to order it and have it shiped here

Comment by Audrey — August 8, 2010 @ 5:34 pm

10.

I love this soda! Im from the small town near by Safford that makes Doc Holiday!BEST SODA EVER!

Comment by Shelly Ross — November 4, 2010 @ 6:24 pm

11.

I happen to know about this product because my dad was one of the people who produced it. My dad and his brother came up with the concept and the recipe and marketed it through their distribution business (Southeastern Bottling Co.) in Safford, AZ. It's available in most of the towns in Graham and Cochise Counties in Arizona, and possibly other places. I've been trying to get them to work with other distributors throughout the state, as it's a very popular drink around here.

Comment by Brian M. Schade — July 13, 2011 @ 2:30 pm

12.

Brian: That's pretty damn cool. Thanks for the headsup and best of luck to your dad.

Comment by Widge — July 13, 2011 @ 6:56 pm

13.

hello,i got a can of doc holliday soda pop,and it is a little different than the one you got,the can is still closed it has not been oped

Comment by Roy Fortney — June 23, 2012 @ 6:52 pm

14.

the rifle is pointed up a little can some one tell me more about,and what it mte be worth

Comment by Roy Fortney — June 23, 2012 @ 6:55 pm

15.

Roy: No idea...you might check eBay. I couldn't find any images of a can like you have...maybe it predates the one I tried or maybe it's just a new design? No idea, chief. Let us know what you uncover.
RSS feed for comments on this post. TrackBack URI
Line and paragraph breaks automatic, e-mail address never displayed, HTML allowed: <a href="" title=""> <abbr title=""> <acronym title=""> <b> <blockquote cite=""> <cite> <code> <del datetime=""> <em> <i> <q cite=""> <strike> <strong>