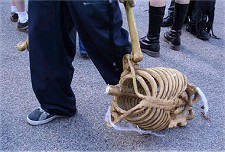 Sweet! A zombie mob descended upon a mall in Vancouver, and the pictures are here. Zombiepalooza!
Found via Boing Boing.
Update: Also, it appears that the mastermind behind the San Francisco zombie horde, when asked about the recent American Idol zombie invasion in Austin, called for zombie solidarity and a sharing of knowledge: "We stand behind them in their quest for more brains. If they find any brains there, they should let us know."
That's taken from this article, which covers the Austin event. It has one of the best quotes of the year: "I don't really know what the legal ramifications of a zombie horde are."
We love it.