Film:

DVD:
Written by Nunally Johnson, based on the play Chicago by Maurine Dallas Watkins
Directed by William A. Wellman
Starring Ginger Rogers, Adolphe Menjou, George Montgomery, Lynne Overman, Nigel Bruce, Phil Silvers, Sara Allgood, Iris Adrian, William Frawley, and George Chandler
Features:
Released by: Fox Home Entertainment
Rating: PG
Region: 1
Anamorphic: Nope, appears in its original 1.33:1 format.
My Advice: Own it.
Roxie Hart (Rogers) is innocent. However, she's also dancer who's down on her luck and in need of a career boost. So, she admits to a murder that she didn't commit. She hires the best (read: sleaziest) lawyer in town, Billy Flynn (Menjou), and starts the biggest media blitz about her trial that the country has ever seen. She's basing all of this on the fact that Cook County, the location of our story, is known for not allowing dames to swing.
[fusion_builder_container hundred_percent="yes" overflow="visible"][fusion_builder_row][fusion_builder_column type="1_1″ background_position="left top" background_color="" border_size="" border_color="" border_style="solid" spacing="yes" background_image="" background_repeat="no-repeat" padding="" margin_top="0px" margin_bottom="0px" class="" id="" animation_type="" animation_speed="0.3″ animation_direction="left" hide_on_mobile="no" center_content="no" min_height="none"]
If the musical went with the biting satire of the media and tried to make a comment on our society, this one adaptation goes straight for the jugular of comedy and doesn't let up. Rogers and company are absolutely perfect. She is the epitome of a bad actress/dancer. She can turn on the sex appeal in one second (and it's enough to make your weep) and in the next second, she's got all the grit of a woman directly from the streets and used to being pawed at by men. The direction of the film is perfect. The trial scene is set to look like the theatrical production it is. This is the kind of movie that you will have to watch several times to catch all of the minutiae of the comedy going on.
Historically speaking, it's neat to note how this movie fit in with the events of the world at the time. The movie was released in February of 1942. Increasingly as that year went on, we would wind up so deep in World War II we couldn't see straight. This film seems to exemplify the ideal that America could be sheltered from the rest of the world that was prevalent at the time. After all, World War I was supposed to be "The World To End All Wars", wasn't it?
The DVD is pretty weak, but I'm willing to over look that for the sake of American film history. The only two features on the disc are two original theatrical trailers for the movie. They are approximately thirty seconds long each and they really show nothing more that Rogers' legs the whole time. I'm okay with that and not just because she had a great pair of legs. I'm okay with that because they used those legs to help tell the story. Every time Hart is out in public, she's showing off her legs…which is really the main part of her defense, isn't it?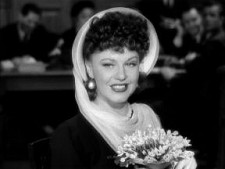 If you liked the recent movie musical, Chicago, you might want to check this one out to see where the inspiration for the stage musical and movie adaptation came from. At least rent it, but I suggest that this one stay on your shelves.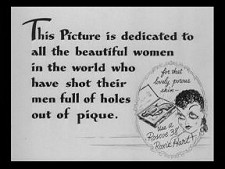 Buy it from Amazon.[/fusion_builder_column][/fusion_builder_row][/fusion_builder_container]