Here's yer DVD goodness…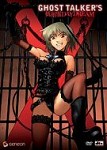 TV DVD of the Week: Alf: Season Two. Lions Gate releases the second season to DVD, featuring twenty-six episodes across four discs. The set is notable in that the menus feature explanations and episode summaries delivered by Alf himself. It's also notable in that it features the Gilligan's Island episode, featuring Bob Denver, Alan Hale, Russell Johnson, and Dawn Wells. You also get episodes from two different Alf cartoons, each one scarier than the last. (Buy it)
DVD of the Week: Witness. This Paramount release of the Amish-meets-rest-of-the-world thriller replaces the previous, bare bones DVD release–and fans of the film will be pleased. Not only is it anamorphic this time around, but you also get an extensive five-part docu that features interviews with director Weir, Harrison Ford, Kelly McGillis and more. There's also a deleted scene, a trailer and three TV spots. (Buy it)

Docu DVD of the Week: Inside Deep Throat. It must be profitable to take a look back at porno cinema, because didn't we just cover something a lot like this? Anyway, this Universal release documents not only the film, but also the phenom that it became, and does an excellent job of putting it in context for those folks who were hardly knee-high to a fetus when the thing was released for the first time. There's a slew of extra segments, some only available on the NC-17 version of the DVD, and two audio commentaries. (Buy it)
Anime DVD of the Week: Ghost Talker's Daydream. Now this is something you don't see everyday. This OVA series from Geneon concerns a medium, a clairvoyant, who can speak to the restless dead. Of course, this doesn't always pay as much as she'd like so she has a day job (night job?) as a very successful–and effective–dominatrix. Three stories are presented over the course of four episodes, plus you get a trailer, clean opening animation, and some CD-ROM content. And really, the thing isn't as outrageously sexual as the title and description might lead you to believe. (Buy it)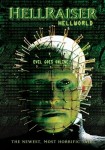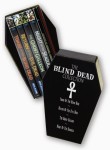 Adverse Video of the Week: Hellraiser: Hellworld. Oh man. You know it's getting really bad when a franchise tries to go "cyber" on you. This time out, it's online gaming that leads you to hell (message? dunno) and the plot into the sewer as rules for the series get tossed out the window and carries Lance Henrikson with it. I'm glad he and Doug Bradley got a paycheck but beyond that…egad. Comes with a commentary by the director, writer, makeup effects designer and producer. (Buy it)
Boxed Set of the Week: The Blind Dead Collection. Well, we've talked about this set before, but it bears repeating, since we're awaiting our favorite holiday at the end of this month to fully have at it: four films of great Euro-horror freakiness, plus a bonus disc and collectible booklet. Now that it's finally streeted, we'll recommend it to you from the fine folks at Blue Underground. (Buy it)
Brit DVD of the Week: 'Allo 'Allo: The Complete Series Three. Meet René. Running a cafe during World War II in the middle of occupied France is no picnic, and considering what all he has to put up with, it's also a neverending source of humor. This two-disc set from BBC Home Video comes with all six third series episodes, along with a decent array of bonus bits: there's a convo with the folks behind an Allo! Allo! fan club and also some people offended by the show; where the cast of the show was on the celebrity panel of Blankety Blank; and lead actor Gorden Kaye's acceptance of the award for Funniest Show on Television from the SOS Star Awards. (Buy it)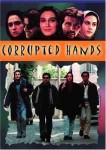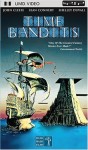 Family DVD of the Week: Because of Winn-Dixie. Okay. Dogs. Should not. Smile. That being said, this Fox release about a girl finding friendship (and a lot about the world) thanks to the dog of the title, comes with a commentary by actor Jeff Daniels and the producer, with scene-specific commentary by actress AnnaSophia Robb. There's also a gag reel, a behind-the-scenes featurette and a featurette about training the pooch. (Buy it)
Foreign DVD of the Week:
Corrupted Hands
. Facets Video brings you this film, an Iranian comedy about weddings and thievery. Two friends run a business in which they'll set you up with a pretty lavish wedding spread, but unbeknownst to their customers, they're being set up to be robbed. However, one of the guys falls in love and decides to get married, putting him at odds with his business partner, his significant other (not the fiancee), and the father-in-law. Hijinks, of course, ensue. (
Buy it
)
UMD of the Week: Time Bandits. It should be no secret that we're big fans of this film. Gilliam at some of his most bizarre and fun, if you're graced with a Sony PSP, this would be a nice addition to whatever other timesucks you're bringing with you as you travel. This UMD release is from Anchor Bay. (Buy it)
Previously: Time Bandits DVD Review.