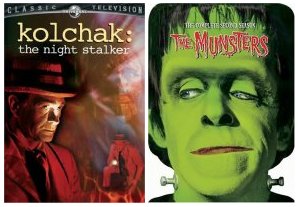 Two brands of bump-in-the-night series are what you have on tap from Universal Home Video here. First up, celebrate the cancellation of the new Kolchak series by checking out the original instead. Picking up from where the two TV movies left off, it's all twenty episodes of the series across three discs. Sadly, no bonus bits. But if you want more Kolchak, skip the new series and look to Moonstone Books instead. But know your history…the series is at least worth a rental.
If you like your creatures to be of the comedic variety, then Uni will take care of you there as well: the second season of The Munsters is out. In addition to all thirty-two episodes from that season, it comes with a considerable amount of features, seeing as how so many shows these days must do without. You get a retrospective featurette on the show, plus spotlight featurettes on Fred Gwynne, Al Lewis and Yvonne DeCarlo. The fan of the show can hold their heads up high (even higher if they have a head like Herman's) when snagging this one.
Buy Kolchak from Amazon.
Buy Munsters from Amazon.