Here's yer DVD goodness...
DVD of the Week: Newsfront. When you're one of the best there is at what you do--in this case, shooting newsreels--what do you do when your entire profession is about to be left in the dust of history--in this case, by television? Before Phillip Noyce directed Dead Calm, he helmed this highly acclaimed film, and it hits DVD thanks to Blue Underground. Not bare bones either, but it comes with an audio commentary, featurettes, and a slew of DVD-ROM features. (Buy it)
TV DVD of the Week: The Adventures of Pete & Pete: Season 2. Nickelodeon's quirkfest of a series gets a respectable treatment in this two-disc set that contains all thirteen second season episodes. Not only do you get guest stars like Iggy Pop, Steve Buscemi, and Bebe Neuwirth, but there's audio commentaries from cast and crew, five of the short episodes and one of the original specials. This hits from Paramount. (Buy it)

Anime DVD of the Week: Ghost Stories, Vol. 1: Freshman Fights. Ah, school days. Trying to learn social skills. Trying to find friends. Trying to haul ass away from a series of whacked out creatures. Okay, I never got to do that last part--drat. ADV is here to supplement the paranormal part of my childhood with this first installment of this series. This also comes with clean opening and closing animation, as well as background information on Japanese ghost stories. (Buy it)
Animation DVD of the Week: Ferngully: The Last Rainforest. A lot of folks have a soft spot in their hearts for this film. Fox appeals to their inner child with this two-disc set that's stacked with features they'll appreciate: an audio commentary, a script to story comparison, a making-of docu, one of those "behind the voice" featurettes with Tim Curry, and eight set-top games that the kids might find amusing for a minute or two before returning to their Xboxes. (Buy it)
Boxed Set of the Week: The Brat Pack Collection. If you didn't snag the films included here the last time around--those films being Breakfast Club, Sixteen Candles, and Weird Science--then now would be a good time to. The features are the same, but this time Universal is offering them with an eight-track CD of John Hughes film music (such as Oingo Boingo and Simple Minds) and it all comes in a three-ring binder. (Buy it)
Family DVD of the Week: Emmett Otter's Jug-Band Christmas. This HIT Entertainment release is a special edition, and though it excises the Kermit stuff (to avoid having to pay out to Diz--completely understandable given the circumstances), it's got a crapload of excellent stuff that you'll want to watch once you're done introducing your kids to this flick. It comes with a behind-the-scenes docu, interviews, bloopers and never before seen footage. (Buy it)
Music DVD of the Week: Peter Gabriel: Still Growing Up: Live and Unwrapped. It's been a few years since I've had the pleasure of seeing Gabriel and his unbelievably kickass backing band perform live. This Rhino release shows me that they've only gotten better with time. Tracks performed here include "San Jacinto," "Slegehammer," and "Biko." Comes with a backstage docu that runs over an hour and bonus performances as well. (Buy it)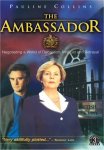 Brit DVD of the Week: The Ambassador. Pauline Collins plays the English ambassador to Ireland. Over the course of six episodes and three discs, she's got to walk the tightrope between diplomacy and corruption, with her number two person working for MI6...and you thought you had a rough day at the office. This BFS release comes with cast profiles and trivia as the only bonus bits. (Buy it)
Classic DVD of the Week: King Kong. Go back and check out the original as you await the Peter Jackson smackdown that is to come. This collector's edition two-disc set comes in a tin case and is freaking stacked. Not only do you get a twenty page version of the original souvenir program, along with postcards, but there's the movie itself, completely restored. The commentary features Harryhausen, Fay Wray, Ken Ralston and Merian C. Cooper. There's a docu along with the ginormous PJ-created making-of docu and more. For more info, check out the official site here. (Buy it)
Docu of the Week: Life in the Freezer. BBC documentary about nature featuring David Attenborough? Do you really need to know anything else? Well, okay, fine: this one covers Antarctica and all the varied life one can find there, from penguins to whales to seals. As we start to slide into winter, for real this time it seems, watching some footage of glaciers and such will do a lot towards making you feel warmer when you head outside. Excellent stuff. (Buy it)
Foreign DVD of the Week:
Felicidades
. A multitude of stories pepper this film from Argentina, hitting DVD thanks to Facets Video. During the holiday season, a group of varied characters tries to prepare for and enjoy Christmas, with all of the various snags that can occur...including some that you wouldn't normally consider...all in a package that mixes humor and poignancy nicely. (
Buy it
)

Chazz would like to point out that the King Kong collector's edition is a hella deal for movie fans and while we're talking David Attenborough, his Blue Planet series from the BBC is good for just about anybody.