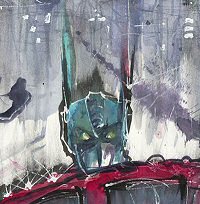 Many, many moons ago, at San Diego Comic-Con, I met a guy who had an entire sketchbook filled with nothing but comic book artists doing their interps of Winnie the Pooh characters. I will never forget Alex Ross' Pooh parody of his own Marvels Human Torch cover, or the James O'Barr-drawn bit with Tigger as The Crow. If anyone knows this guy, for God's sake, send him my way. I would pay for just some scans to keep for myself.
Anyway, I Love Cartoons is along those same lines. Artists giving their spins on classic characters. That's Andy Lee's Optimus Prime over there. Some other favorites of mine are Top Cat by Bill Sienkiewicz and David Mack's Popeye. Too sweet.
Found via Screenhead.