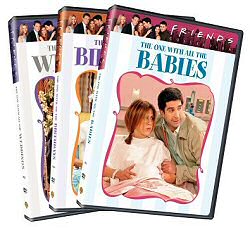 Friends was one of those shows that drew an audience that reached almost cult-like proportions. And really, NBC still has yet to recover from its loss. Now, there's been a DVD release of the entire run of the show, but for those of you who can't plonk down that much coin–or perhaps you just need a nice themed gift–Warner Brothers has thrown these compilations out there for you to pick up on. Know somebody spawning? Know somebody getting hitched? Well, we all know people with birthdays. So there you go.
The Babies release comes with five episodes, including commentary from the executive producers on the hundredth episode and the episode where Rachel spawns. The Birthdays release comes with six episodes, and the Weddings release comes with four episodes, with commentary on the episode where Monica and Chandler get hitched.
Again, nothing new under the sun, but hey–they're cute enough.