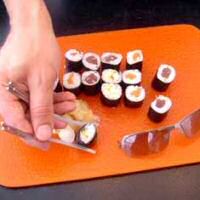 And from the "Wait, What?" Department, comes this word from Slashfood: the company ic!Berlin has created sunglasses that you can remove the arms from and use them as chopsticks.
I don't know about you, but I have to gel my hair in order to keep it from coming alive and trying to kill cute furry animals. I have no desire to season a crab stick or a California roll with gel. And, really, have you seen the kind of crud that can collect behind your ears? And yes, I'm speaking to you specifically.
Is there a universe where this makes sense at all?