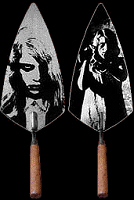 As I kick off this year's TechnoCave Halloween Film Festival, I was looking up Duane Jones' career following our #1 film, Night of the Living Dead, and I found that Kyra Schon has dedicated her website, Ghoul Next Door, to Jones. Who is Kyra Schon? She played the little girl who broke more taboos in the film than anyone else, gnawing on her dad and killing her mom with a garden trowel.
Which is why I was so startled and delighted to see that she has gear for sale–including garden trowels! How freaking cool is that? Sadly, the trowels are out of stock. But there's plenty of shirts and even resin busts along with other cool Dead-related gear.
Go check out her site here. A must stop for fans of the Dead saga.