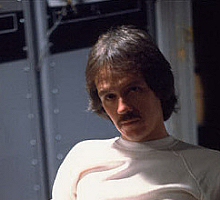 Bring him back. Please? I just got done watching The Thing for the umpteenth time and I would really like the good Carpenter that we all know and love back. I'm sure we can convince the real Carpenter not to press charges or anything. And none of the rest of us will press charges for stuff like Ghosts of Mars. Honest. Total amnesty. Just bring him back.
Signed,
Widgett Walls
Director, Needcoffee.com
P.S. Image of Carpenter from the set of The Thing taken from the incredibly impressive site for all things Thing—Outpost 31.