Espesso: Coffee You Can Eat With a Spoon!
By Widge - posted 12.04.06 @ 3:57 am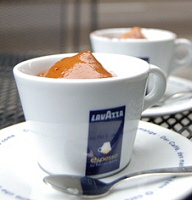 You know, sometimes I get behind on reading certain blogs. It's inevitable. I have so many that I try to skim through, things slip through the cracks. Can't be helped. And I would be kicking myself for this--but it's apparently either in Europe or in Chicago that you can find this stuff: espesso.
Yes, it's spelled like that on purpose. And while a lot of folks around here like coffee so thick you can literally scoop solid bits of it out with a spoon, this treat is...well, quite spoonable. It's edible coffee. Movable Feast compares it to a mousse, even. I say: brilliant. Then I whine petulantly and want to try some. I haven't wanted a product this badly since that Japanese coffee that came in a can which was marketed under the name GOD. Which I never was able to find, dammit.
Read More About: