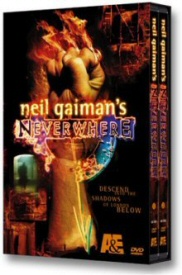 Excellent news. The Neil gave word that an unabridged reading of his novel, Neverwhere (read by himself this time), will be hitting the streets later this year. We checked–and sure enough, Amazon already has it available for pre-order for November 1st. Nice.
If you don't know the book, you really should fix that. We quite enjoyed the BBC miniseries (our review here) that spawned the novel, and the novel itself is good fun as well. I didn't much care for the comic book adaptation, because despite liking both Mike Carey's and Glenn Fabry's work normally, it just didn't gel for me.
Anyway, since we know you're going to buy it–because anytime The Neil reads his own stuff you should buy–do so here. Because we get kickbacks. And you can grab the book, the DVD, and the graphic novel as well if that cranks your tractor.