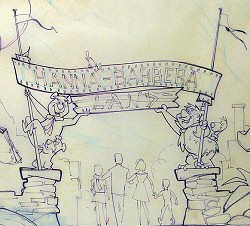 Wow. Talk about some theme park magic that never was–Dan Goodsell, creator of Mr. Toast, posted some concept art for the never-built Hanna-Barbera Land. It would have had everything from the Bedrock Emporium and Museum of Modern Invention to the Space Ghost Battle of the Planets ride. Wild.
[fusion_builder_container hundred_percent="yes" overflow="visible"][fusion_builder_row][fusion_builder_column type="1_1″ background_position="left top" background_color="" border_size="" border_color="" border_style="solid" spacing="yes" background_image="" background_repeat="no-repeat" padding="" margin_top="0px" margin_bottom="0px" class="" id="" animation_type="" animation_speed="0.3″ animation_direction="left" hide_on_mobile="no" center_content="no" min_height="none"]
Buy Stuff – It Supports the Site!