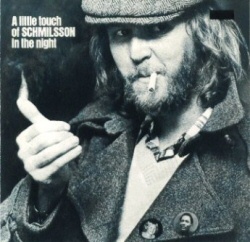 Deborah Chesher took photos of rock musicians. Last year she published the book Everybody I Shot is Dead, which was going to be of serious interest to Siege until he heard the photography bit. Anyway, the book features photos of musicians we've lost as well as her stories. One of these stories has gotten reproduced on The Secret Vault. And it's a great one.
While my guy is calling the other Sprint place to make sure they have the part, I overhear that last part of the other guy making a reservation… I wasn't paying much attention until, out of the corner of my ear, I heard him spell N-i-l-s-s-o-n and say it was for four.
I glanced at him and when he hung up the phone I made some smartass comment like, "So, I'm invited to dinner?" as the spelling of the name sunk in. How odd, I thought, as he joked back, "Sure, dinner's at 7:30." Then I mumbled, "You don't happen to know Harry. do you?" "Excuse me?" "Sorry, I just heard you spell Nilsson. Just wondered if you knew Harry."
"I'M HIS SON."
Oh, it gets weirder. Read the whole thing here. And go buy Deborah's book here. We're sending you straight to her site instead of Amazon because I'm sure she gets a bigger chunk of the $ that way. Tell her we said hi.