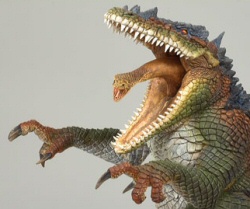 Spawn. Dead guy who's conveniently been around in one form or another through just about every era of history. In fact, some eras of history that they just made up. McFarlane Toys: they use this concept as an excuse to make kickass looking toys. Us. We don't mind at all.
And neither should you, because you get the chance to win these bad bastards. I mean look at Sebek the Crocodile King there. Dindrane already wants to snuggle it and feed it Croc King Chow.
We have an entire set of these things to give away! Want to see them? Click through the jump and you can enter as well. Remember: you can enter once a day! So be of good cheer!