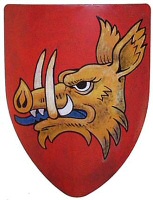 The traditional symbol of courage to the ancient Celts, wild boars have now proven their worth to Homo sapiens law officers. After ramming into cops at full speed, a car thief temporarily escaped the mere human police and fled into a dark forest. Luckily for human laws, a family of wild boar was around; the thief encountered these lovers of justice, who held him at bay until the conventional, primate police arrived to rescue and arrest him.
"…he ran into the family of boars, and the head of the family squared up to him," a police spokesman said on Friday. "So he stood there, put his hands up, and called for help."
A spokespig for the Germanic Susian tribes issued the following statement: "We are pleased to participate in a cross-species search for justice; the thief in question, however, should be reminded that second offenders are issued the death penalty."
The original story can be found here. Image source.