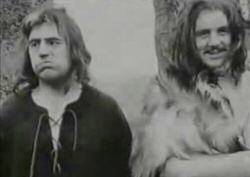 Chortle reports that the long missing Terry Jones and Michael Palin-created pre-Python sketch comedy show, The Complete and Utter History, has been found. There's a whole slew of British television history bits classified as "Missing Believed Wiped," where the things were destroyed under the impression that they had no replay value and the networks needed the shelf space. History was in that category, although bits and pieces were either kept by Jones or have turned up. Mark Evanier has mentioned before that had Python come along a bit earlier, it might have wound up Wiped rather than becoming a staple of the modern comedic diet.
As for trying to recovery Wiped television, they try to find extant copies of things in the hands of collectors or, apparently, right under their own noses.
One episode had previously turned up thanks to a filing error. At the times, Jones explained: "Somebody turned up a whole program that had been misfiled. All the stuff filed under 'Comedy' had been wiped, but this was filed under 'History' and so it was still there."
The series will be screened on June 25th. Let's hope for a DVD release in the near future.