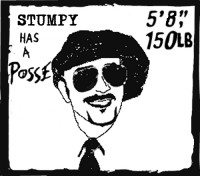 A.J. "Stumpy" Johnson has decreed that the one show shall be two. And now the two shows shall be four. And there will be more beyond that. A small east coast tour is appearing before our eyes, bringing joy to the hearts of millions everywhere. And Stumpy is ensuring that the Skinnee Crew will be performing at a high level quality. He states:
I'm so confident that I might even pick a few lucky sucker— I mean, fans-to show me that they can do better during the shows. If you impress me (and you know how hard that is to do) I will give you something so special, so free, you will wonder whether you are worthy enough to possess it: a t-shirt and an ashtray. Actually you have to steal the club's ashtrays yourself, but a t-shirt could be yours if you show me better stuff than My Boys, the 2 Skinnee J's. Think you're up to it? Then put your money where my pocket is…
I would hesitate to challenge anyone whose name is a killing word. Here are the dates thus far:
Thurs. Aug 7th @ The Lincoln Theater, Raleigh, NC
Fri. Aug 8th @ The Norva, Norfolk, VA
Sat. Aug 9th @ Irving Plaza, NY,NY (SOLD OUT!!!)
Sun. Aug 10th @ Irving Plaza, NY,NY (Only 200 tix left!!!)
Get Tix through
2SJ.com
As the prophecy has foretold, the Js would return, like Arthur, when they are needed most. If you live in these areas, you are morally obligated to go and party with the Js.