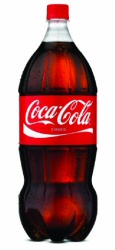 Because some things you simply need to know. And why should you have no lives and read dozens of websites to know what's what? We're taking this one for the team.
Sacha Baron Cohen's Bruno is scheduled to hit cinemas on May 15th, 2009. I don't think we need to elaborate further with this crowd.
DC fired Chuck Dixon. What's up with that?
Coca-Cola is taking their contoured 20 oz. bottle and blowing it up. And not with Mentos or anything like that. They're going to take that shape and put it in its 2-liter form, replacing its current boring shape. All the Coke brands will soon follow suit. This pilot of the new bottle shape rolled out to Birmingham, Alabama and Chattanooga, Tennessee yesterday. Found via BevNET.
Sam Raimi will direct The Given Day, the as-yet-unpublished novel by Dennis Lehane, author of Mystic River and Gone Baby Gone. Apparently Martin Scorsese is finishing up on an adaptation of Lehane's Shutter Island starring Leonardo DiCaprio. The report at Variety mentions that Spider-Man 4 is being scribed by James Vanderbilt, although last I heard there's some question as to whether or not Raimi will return. If not, solve this equation: Peter Jackson is to Guillermo Del Toro what Sam Raimi is to…whom? Anyway, the book is due out September 23rd. Pre-order it here.
Throttle is a novella from Stephen King and son Joe Hill about a father and son being chased by an 18 wheeler. If that sounds a lot like Duel, there's a reason: the novella shows up next year in an anthology of Richard Matheson tribute stories called He is Legend. Sweet title. The report, also from Variety, said that Heart-Shaped Box is at Warner Brothers being scribed by Neil Jordan while Locke & Key, Hill's limited series for IDW Publishing, is at Dimension. No word on what Stephen King is up to, but we have a feeling it involves about fifteen novels, twenty-three short stories and a musical co-written with John Cougar Mellencamp. That last part is true. Also, we've heard that Throttle producers have been dodging calls from a certain Green Goblin semi truck, saying that he's free. And his rates are reasonable. And since trucks aren't eligible to join SAG, the truck is able to work even in case of a strike. He is Legend is available for pre-order here.
If you watched any indie film in the cinema over the past few months, you probably saw the trailer for Young@Heart, in which a choir of senior citizens prep for a performance where they cover songs from Radiohead, OutKast, and The Ramones. The DVD hits September 16th from Fox. And the soundtrack hits from Rhino on July 1st.