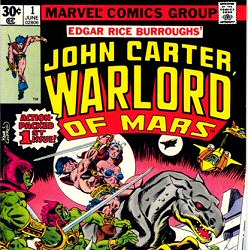 So Andrew Stanton is co-writing John Carter of Mars (with Mark Andrews), based on the Edgar Rice Burroughs book, A Princess of Mars. For those who are unfamiliar with the story, I assure you that John Carter and the Princess are not the same character (although that may have been the case in some previous drafts of the script, unconfirmed).
Slashfilm found out that it's unclear how it's going to be released, through Disney yes, but how under the Disney empire hasn't been figured out yet. Don't expect anything to happen on that until next year after the script is done. This makes sense, as the film wasn't on their through-2012 schedule we mentioned before. And it appears they're not certain if they're doing live action or animation or both.
Personally, I think it would be awesome if Pixar would start to do some more adult-oriented animation–more along the lines of what they were doing with The Incredibles. Of course, in this country we're a bit backward when it comes to thinking about animation as being for more than just kid-friendly entertainment. So.