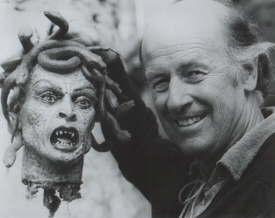 Ray Harryhausen turns 88 today. Happy birthday to a guy who's responsible for stop motion as we know it today. And is there anyone alive today who didn't think the Sinbad movies were the coolest goddamn thing ever? Harryhausen gave us skeletons that got up and fought with swords and shields. What a genius. But he's not just in the full-on gloriously whacked out creature business. We'll get to that in a minute. First, let's look at 1946, for Mother Goose Stories:
Direct link for the feedreaders.
I realize that the quality on these is not great–so I recommend if you're a fan picked up the Early Years Collection.