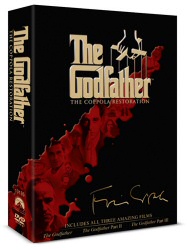 This is where we take all the pop culture news of the day, strip out all the extraneous hoobah surrounding it, then shove it into a burrito and hand it to you. Eat it. It's delicious.
X-Files fanatics take note: really, really good actress Gillian Anderson is going to be in a production of Ibsen's A Doll House in London next spring. Start saving your pennies now. I hope the new movie makes lots of money for her sake if nothing else. Have you seen The Mighty? Damn, she's good.
AVG's new ad campaign is Hugs for Hackers. Basically, the idea is that AVG will stop the hackers dead in their tracks, so they're going to be pretty bummed. And they'll need a hug. They even snagged and put up a site on hugsforhackers.org. No, I haven't linked to it because I went there and trust me, I've already told you the clever bit. We must all now smirk, nod, and keep moving.
Godfather's back. "The Coppola Restoration" is hitting DVD and Blu-Ray (no pre-order available yet) on September 23rd. From what I can tell from Paramount's press release, there's no new footage or anything, it's just that they restored it frame by frame over the course of a year, which is unlike that reel by reel restoration…I…guess. Regardless, the four-disc set we had previously is replaced by a five-disc set where the fifth disc is all new stuff, so it's the old set and then some. The Blu-Ray collection is four-disc but appears to just slam all the bonus bits onto a single disc. However, I'd like to point out that there never was a Godfather III. That is a vicious rumor and by me posting this I am in no way subscribing to the crackpot theory that the film ever existed.