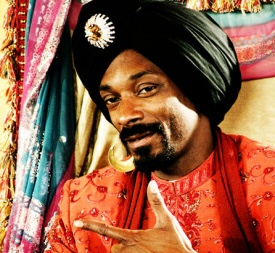 Other sites want to take a nugget of information you give a shit about and write 600 words about it: trouble is, that means you have about 550 words too many to have to read. We give you a barrage of news in nuggets that you can digest easily and get on with your day. You're welcome. (Granted, we don't know what goddamn day it is anymore, but that's the sacrifice we make.)
Snoop Dogg has a cameo in a Bollywood musical. No, honest. The film Singh is Kinng opens August 7th in India. I love this bit: "In crimson Punjabi shirt and a turban, Snoop performs the titular musical number alongside star Akshay Kumar in a segment that was lensed in Chicago. The Long Beach, Calif.-based rapper and the Bollywood actor apparently hit it off so well that they went on a 'kingly' shopping spree for the Indian garb seen in the shoot." Nice. And it worked, apparently: the soundtrack's sold 5 million copies in two weeks. I can't find their music video online but here's a sixty second taste of the movie, if you're interested. Note: Snoop does not appear in this clip… Source: Variety.
A thirty minute tape of The Beatles cutting up and also trying to record "I'll Follow the Sun" is going up for auction on Tuesday with an expected final price of between £8,000 and £12,000. Which I think is a very conservative estimate. And if you read up on what the tape has on it, it sounds like a proto-Nuts on the Road, just with more actual talent.