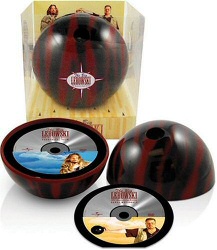 I know a lot of you have a tremendous love for The Big Lebowski. I'm not one of you. I know, I know, but if we agreed on everything then you'd be the one in therapy and not me. But then again, if you're into it–the 10th Anniversary Edition is coming September 9th from Universal. New bonus bits appear to be a lot of featurettes. There's the normal edition and an "individually numbered, limited edition, two-disc set encased in specially designed 'bowling ball' packaging." Pre-order your normal version here or the bowling ball version here.
Nativity sounds like a brilliant concept for a comedy: "two rival English schools vying to outdo each other in the annual Christmas nativity play." Martin Freeman, Arthur in the Hitchhiker's Guide movie, is attached. Source: Variety.
Nissan has pissed off the Arab world for a commercial in which a sheik attacked the car because it was fuel efficient.

Direct link for the feedreaders.

It is my sincere hope that this is the equivalent of our twelve people here who complain every time any bare flesh is shown on television. So to those twelve people I say for fuck's sake: we're paying out the arse for oil. I'm sure you can afford to rent a sense of humor.

Source: Variety
Imagi, who we've mentioned before, did TMNT. They are on board for Astro Boy in 2009 and Gatchaman for 2010. But now they're bringing back Tusker, a project that we had first talked about on Corona's Coming Attractions in 1999, with Jodie Foster and Morgan Freeman rumored to be providing voices. Originally supposed to be out in 2002, it was sent the animated elephant graveyard in 2005. Originally we had heard Terry Rossio and Ted Elliott were involved in some story capacity, but Ted Tally (Silence of the Lambs) is scribing now–which draft of the project it is, I'm not sure. The film is penciled in for 2011. Source: Variety.