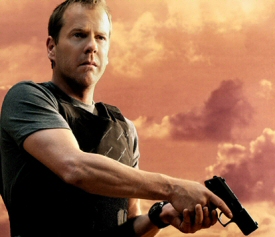 24: Exile is the TV-movie event thing that precedes the seventh season of 24. It's broadcast November 23rd, is available on DVD November 25th with ten more minutes of footage, Season 7 sneak peak, featurettes, commentary and more stuff. The flick "catches up with Bauer four years later on the African continent where he has sought solace in missionary work. As the action unfolds on the day of the U.S. Presidential Inauguration, he finds himself in the midst of a bloody uprising in the small fictitious African nation of Sangala where a ruthless dictator is drafting innocent children as soldiers in his army. As the vicious warlord descends on an orphanage in search of recruits, Jack enters into a one-man crusade at the behest of a friend to rescue the children and get them to safety." You can pre-order it here.
For the eco-minded among you, be aware that Amazon now has a Green section where they sell everything from lighting to paper products to computer monitors. Be sure and check it out. Banner is below. And anything you buy using this banner–or the one we've put on our Shop Needcoffee section–gives us kickbacks. So you can save the planet and us at the same time. What a combo.



Also, they're having a special where you can get $25 off of $59 or more in groceries. Check that out here. Offer's good through the end of the month and hey, coffee's eligible.
Comedy Born to Rock is being produced by David Duchovny, Tea Leoni and Dan Cortese. In it, a group of older rock musicians "end up catching a record exec's attention for a children's song written on a lark, then find unlikely success as a Wiggles-type children's band." It certainly sounds like it has potential. Source: Hollywood Reporter. It also reminds me of this Dylan Moran bit, which we had posted previously, but was then taken down and now is back:
Direct link for the feedreaders.