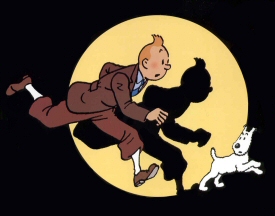 Who's directing the Tintin movies? Steven Spielberg is on board to helm the first one. Although Herge Studios, who owns the rights, said Peter Jackson is doing the first film. But no, he's on board for Tintin 2. That's what Spielberg's and Jackson's people both say. But Jackson is producing the first film. And of course, Jackson is going to do this after Hobbits 1 & 2, so I hope he can fit it all in. Anyway, film one is based on The Secret of the Unicorn and Red Rackham's Treasure and will be adapted by Stephen Moffat. And it "will be animated with motion-capture technology and star 18-year-old Thomas Sangster as Tintin and Andy Serkis as his friend Captain Haddock." But if Jackson's involved, we at least know it will be the good mo-cap rather than the Zemeckis mo-cap. Source.
Chemical Wedding is the biopic of Aleister Crowley. And it's written by Bruce Dickinson, former frontman for Iron Maiden. And it's starring Simon Callow as Crowley. According to the IMDB, Julian Doyle (editor on Life of Brian and Brazil) is helming. Source.

Oh wait, here's a trailer:


Direct link for the feedreaders.

That's a biopic?
So this is different–Warner China Film HG–which apparently is a partnership between Warner Brothers, China Film Group and the Hengdian Group has decided to remake Cellular as Connected. Which is the same story–but with Hong Kong action sequences. And those improve anything. Source.