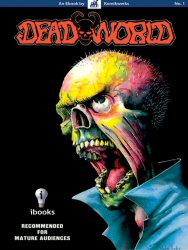 Framelight Productions has Deadworld on its slate to send into moviesville. They have some other project as well, but this is the only one we recognize. So. Anyway, here's a question: what happened to the old project? George Clooney was attached to produce back in the 1999 timeframe, and Todd Alcott (co-writer on Antz) had apparently scribed up something for it. Mark Pavia (Night Flier) was attached to helm. It was then over at Maysville and Warner Brothers. But then the rights expired in 2003, and here we are again. I'm fine with this going for the big screen–let's save Walking Dead for HBO or Showtime, okay? Source: Hollywood Reporter.
Ben Affleck is in talks to star in, rescribe and helm The Town. It's based on the novel Prince of Thieves by Chuck Hogan, who previously revised the script by Peter Craig. Adrian Lyne was previously attached to direct. The story is about a bank manager, the thief who stole her heart, and the FBI agent who's also got a bit of a crush. On the female bank manager, I mean. Shame Robin Hood stole the original title, huh? Source: Hollywood Reporter.

Children of the Corn is being remade by the Sci Fi Channel with David Anders (Heroes) and Kandyse McClure (Galactica) as the hapless couple. Preston Bailey (Dexter) is Isaac and Daniel Newman (Surface) is Malachai, who is wanted too. Movie airs next year. Source: Hollywood Reporter.
Stephen Colbert is doing a Christmas special on Comedy Central: A Colbert Christmas: The Greatest Gift of All on November 23rd with the show hitting DVD on the 25th. Proceeds for the DVD sales go to Feeding America. It "will feature the comedian performing duets with Willie Nelson, Elvis Costello and John Legend"… and Jon Stewart. Colbert has sung with guests before…he apparently sang with Crosby, Stills and Nash. Colbert sounded the best out of all four, I'm sad to say. It's also telling that I embedded a My Little Pony video but won't embed that. Source: Variety.
XXX3? Fucking finally. Somebody's making some sense. Columbia is chatting with director Rob Cohen and Vin Diesel about making another. The film is just in the chatting stages now, with the lame title of XXX: The Return of Xander Cage. Um, Vin? You left the franchise. Nobody remembers the character's name after six years. It's pointless to call it that. Hell, get cheeky and call it XXX Returns. Why the fuck not? Apparently Diesel, who made the ill-advised Pitch Black sequel but skipped out on the other cash cow franchise, Fast & the Furious, is rejoining Paul Walker in episode four of that franchise, which comes out June 12th. Apparently if they can't make a deal with Columbia, Cohen and Diesel will go elsewhere. Source: Variety.