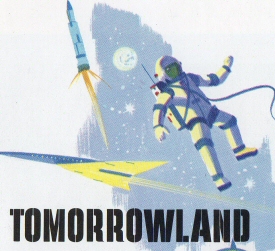 Tomorrowland is going to be adapted into a motion picture, according to Variety. That's right, not a theme park ride–but an entire theme park section–is going to be made into a film. The star? Dwayne Johnson. However, "Disney denies the film has been titled 'Tomorrowland' or is dedicated to the park's section." So basically by denying this, Disney has just stated they're working on a generic sci-fi project. I think it should be about a theme park being attacked by the world's weather and call it The Day After Tomorrowland. I know, the joke's bad, but you'd see that before you'd see Untitled Disney Sci-Fi Project Starring The Rock, wouldn't you?
Priscilla, Queen of the Desert is yet another movie becoming a musical. It starts in the West End in March, even though it stated in Sydney back in 2006. It was adapted for the stage by Stephan Elliott, who brought it to the screen in the first place. I wonder how many other movies-now-musicals are out there, just shambling towards Broadway. Here, have a taste, just because:

Direct link for the feedreaders.

You know, I think I'd be a lot more impressed if they had actually, you know, written some songs. Source: Variety.
Beverly Hills Ninja 2. If you ever needed proof that everything has a sequel in development–here you go. It's the first mainstream Hollywood film to shoot in South Korea, starting next month. David Hasselhoff is in it. Trust me, you don't Need to Know any more than that. Source: Variety.
John Cleese returns to the small screen to host "a new show examining bizarre gadgets" entitled Batteries Not Included for a digital channel called Dave. His last time on the telly was The Human Face, an excellent series about exactly what the title would imply. Cleese of course has plenty of experience with gadgets, showing here:
The Eighth Wonder will star Nicole Kidman and be scribed by Simon Kinberg (co-writer, Jumper). "The goal is to create a movie that will be to Raiders of the Lost Ark what the Bourne movies are to James Bond movies: a character-driven, treasure-hunting thriller. This is good, since The Mummy movies have already wrapped up the Jewel of the Nile comparisons. Source: Hollywood Reporter.