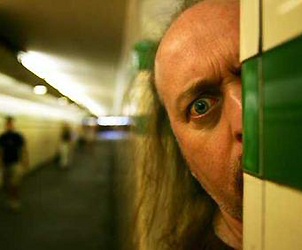 Bill Bailey is saying "never mind" to Never Mind the Buzzcocks after eleven series as a team captain. Guest captains will take over opposite Phill Jupitus for the new series, starting next month. Simon Amstell is indeed back to host. Bailey has stepped down reportedly due to "other work commitments." I would say, if you can snag him, Noel Fielding, who sat in for Bailey previously, would make a great replacement. I'm sure I'm not alone in this sentiment. Source: Chortle.
Couples Retreat sounds like it might be amusing. At first, the four couples at a tropical island resort setup sounds like California Suite, which might be good. But then you cast Vince Vaughn, Jon Favreau, Jason Bateman and comedian Faizon Love and it gets more interesting. Then you tell me Favreau's the scribe–and Peter Billingsley is making his directorial debut on it. Yes, that Peter Billingsley. Apparently the retreat in question is for couples therapy–that's mandatory. So whether you need or not, you're going. This is apparently what Favreau is doing before hopping on the Iron Man 2 train with production on that starting next year. Speaking of which, did you catch the Billingsley cameo in Iron Man? I sure as hell didn't realize that was him. Ken had to tell me. Source: Variety.
Flash Forward looks like it might end up at ABC. It's the spec script by David S. Goyer (story credit on Dark Knight) and Brannon Braga (Star Trek franchise). Anyway, based on a novel by Robert J. Sawyer, it's what happens when the entire population of Earth blacks out for exactly two minutes and seventeen seconds so they can have a vision of the future. Incidentally, two minutes and seventeen seconds is, by sheer coincidence, how long Paramount debated whether or not to do a followup series to Enterprise. Source: Hollywood Reporter.
Middle Men will star Luke Wilson and Giovanni Ribisi. Production starts next month. It's about the creation of online porn as an industry, thanks to a businessman who sets up an online billing company for adult sites. And hjinks ensue. It's helmed by George Gallo (story credit on Bad Boys) who co-scribed it with Andy Weiss (writer on Punk'd). Wilson and Ribisi first were in a film together for Masked and Anonymous. Source: Variety.
Guy Ritchie's Sherlock Holmes might get Jude Law as Watson. That's the negotiations, anyway. Production starts next month. The bad guy in the film will be Blackwood and not Moriarty. That role has not been cast yet. Let's hope if the movie's any good they're setting up Moriarty for round two. Source: Variety.