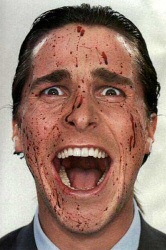 I know we've been talking a lot about movies headed for the stage. Here's another one for you: American Psycho: The Musical. "Producers are betting Bret Easton Ellis' novel and screen adaptation will translate to a stage musical, with original 1980s-inspired songs and familiar covers of hits from the era. Music rights have not yet been secured, but producers hope to include songs by such bands as Talking Heads, Genesis and Huey Lewis and the News mentioned extensively in the novel." So they're too cheap to spring for a fully original series of songs. Gotcha. They want to bring this to the stage by 2010 with sights on Broadway at some point in the project's future. Source: Hollywood Reporter.
Amazon is selling The Mel Brooks Collection for $40 today only or while stocks last. That's 60% off the regular price. Granted, it does have Robin Hood: Men in Tights, but eight movies at five bucks a shot: not terrible. Get it here.
Astro Boy has a release date: October 23, 2009. Let's hope it's better than the last big Japanese animation to live action adaptation: Speed Racer. Otherwise known as The FX Guys Took Speed (Racer) and Left None for the Writers. Source: Hollywood Reporter.
The Beautiful and the Damned is the story of F. Scott Fitzgerald and Zelda Sayme. Keira Knightley is in talks to play Zelda with production starting in April. Source: Hollywood Reporter.
Bruce Willis will helm his first movie: Three Stories About Joan, starring Camilla Belle (10,000 BC) as Joan. Kieran Culkin (The Mighty) is also aboard. Willis will also play Joan's father. The film "centers on a young woman at three points in her life and the family tragedies that cause her to lose her grip on reality." Sounds terribly cheery, doesn't it? Source: Variety.