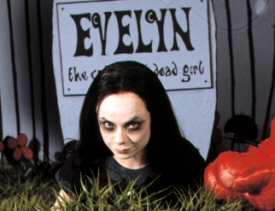 I think you know by now that we're big fans of morbid whimsy around here. So when looking up info on Cats & Dogs 2 director, Brad Peyton, I found he had done a short film in 2002 called "Evelyn: The Cutest Evil Dead Girl." Now, I ask you: is there anything that's not irresistible about that title? Moments later, thanks to YouTube, I had it. Enjoy.
Direct link for the feedreaders.
Last year at this time we had the trailer for the original version of The Haunting.