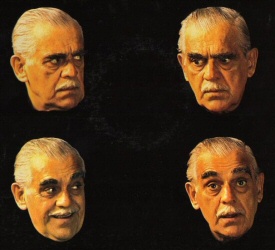 This is a bit of weird thing for me, because when I was a lad, sometime around the year 1621, I thought the "Monster Mash" was sung by Boris Karloff. And then I found out it was actually by Bobby Pickett. And now to learn that Boris performed it on a Halloween special? Wild. Sadly, there's apparently no known extant video of that performance–but this guy snagged it on a reel to reel. For you kids out there, just imagine a cassette tape but blown up real big.
What's a cassette tape, you ask? Look, go to hell, okay?
BTW, Rox led us to this. This video, I mean, not you kids going to hell.