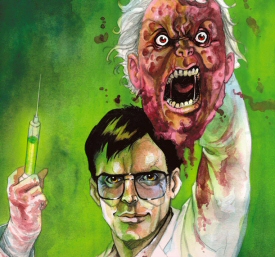 The Booths is a series on Showtime that will feature the Booth brothers–one of them being John Wilkes–and the time before J.W. went on to kill President Lincoln. Kevin Bacon will executive producer. If it's anything like The Tudors on Showtime, there will be an odd amount of exposed flesh for a period piece… Source: Variety.
Devil's Due comic Hack/Slash is having issues with somebody who claims to have the rights to Re-Animator, so Diamond has decided, for legal reasons, not to distribute the planned three-issue crossover (or at least not distribute it any more). Devil's Due is therefore self-distributing them.

Buy your copies here if you want to check them out–looks like it'll be the only way to do so. For more details on the weird nature of this, check out io9. (Update: Site is long gone.)

This actually has nothing to do with the comic, but I wish somebody would hack and slash this video.

Direct link for the feedreaders.

Ridley Scott is working on an adaptation of Brave New World. io9 talks to Ridley Scott about it if you want what few details there are. But Scott admits he has a lot on his plate–I'll be amazed if this gets made in its present incarnation.
The aforementioned Middle Men, about the rise of the online porn industry due to one normal guy making an online billing company, has expanded its cast to include James Caan, Gabriel Macht (the upcoming Spirit), the immortal Peter Stormare and Rachael Taylor (Transformers). Source: Variety.
Unthinkable stars Brandon "Bulletproof Eyeball" Routh and Gil Bellows (Ally McBeal) as FBI anti-terrorist agents with Carrie-Anne Moss as their immediate boss. Sam Jackson is a black-ops agent, Martin Donovan (Weeds) is the director of the FBI. The agents are put on the case of interrogating Michael Sheen (Frost/Nixon), who's playing an American Muslim, who says he's planted nukes in three U.S. cities. Production starts this month. Source: Hollywood Reporter.