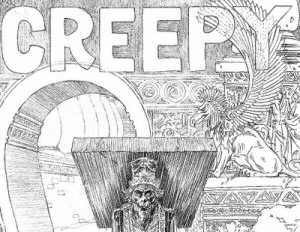 datajunkie has a gallery of Warren magazine cover sketches and artwork by Roy G. Krenkel, a snippet of which we've included above. They are awesome. Found via Monster Rally.
The glory of Edgar Paper Poe. Found via Neatorama.
Evil Mad Scientist Labs has posted a way to hack a pumpkin so it knows when it's dark outside. I don't understand a word of their explanation. Circuit diagrams make my eyebrows catch fire. But if it's your thing, the end result is pretty badass.