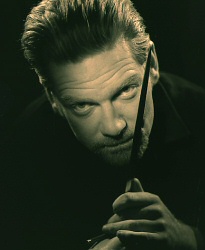 Okay, this is interesting: and it's theatre, but keep reading even if it's not your bag. Hamlet in the West End stars Jude Law. Michael Grandage (Frost/Nixon) is now directing it because a guy by the name of Kenneth Branagh has exited the production because he's going to be doing that Thor thing. If you can catch the upcoming season at Donmar Warehouse, Jebus, it sounds awesome: Branagh is there doing Ivanov, Derek Jacobi is going to be in Twelfth Night, and Judi Dench in Madame de Sade. Nice. Source: Variety.

Actually, looking at that pic of him, he wouldn't make a bad Loki either, would he?
The Happytime Murders is what happens when puppets go noir. No, seriously. It's a spec script that the Henson Company has picked up and will produce under their Henson Alternative banner, which is to them what Touchstone is (well, was) to Disney. (At least they didn't call it HENSON EXTREME.) It's what happens when there's a world in which puppets and humans live side by side. However, in this world the puppet cast of a children's TV show starts to get bumped off one by one and it's up to a disgraced alcoholic puppet detective to find out what's really going on. So…erm…it's a fucked up cross between Greg the Bunny and Watchmen? Brian Henson is to helm it. Source: Hollywood Reporter.
Jason and the Argonauts is being developed at NBC as a pilot for a green-screen show, the first of its kind for prime time TV. This in addition to the Argonauts project at Fox, scribed by Zak Penn, and another Argonauts feature which is listed at DreamWorks. I think I speak for all of us when I tell all three companies: if your skeletons aren't going to be as badass as Harryhausen's, then you're doing it wrong and should start over. Source: Variety.
A Little Night Music is going to get the concert reading treatment January 12th at the Nokia Theater in NYC by the Roundabout Theatre Company. Participating are Christine Baranski, Victor Garber, Vanessa Redgrave and Natasha Richardson. Source: Variety.
Wanted is now available for pre-order at Amazon. As I write this, the two-disc special edition DVD is $23.99. Blu-Ray flavor for $26.95. There's also a collectible gift set version, with special packaging (like a bullet has shattered the outer case), a photo book, postcards and a film cel. That goes for $43.95.

Like our Stuff? You can subscribe to just this portion of the site and get the Stuff You Need to Know by using this newsfeed. Thanks for stopping by.