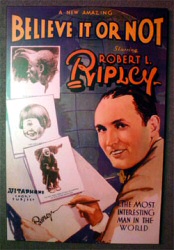 Cleo is going to be a musical version of the love triangle of Antony, Cleopatra and Caesar transplanted into the 1920s. Directed by Steven Soderbergh. Catherine Zeta-Jones is attached as Cleopatra and Hugh Jackman is in talks to play Antony. Music is written by Guided by Voices. Sources: Hollywood Reporter and Variety.
The aforementioned Emmet Otter stage production will start Daniel Reichard (Jersey Boys). It opens December 7th and runs through January 4th at the Goodspeed Opera House in East Haddam, Connecticut. Source: Variety.
Legendary Pictures is in talks to acquire Epic Games, the people who brought you Unreal and Gears of War. You don't really need to know that, but it's interesting because as the article points out it'll be the first financing company to start dropping coin into video games. No pun intended. You kids won't know what it means anyway.
Newman's Own is entering the frozen pizza arena: Newman's Own Thin and Crispy frozen pizza in four flavors: Supreme, Four Cheese, Roasted Garlic and Chicken, and Uncured Pepperoni. It's being test marketed in New England and will expand out to the full U.S. by 2010.
Perrier's Bounty "is a comedy-thriller about three fugitives on the run from a big-time gangster out for revenge following the accidental death of one of his gang members." I don't know about that–I do know that it has Jim Broadbent, Brendan Gleeson and Cillian Murphy in the cast–which is good enough for me. Production starts next month. Source: Variety.
Spring Awakening goes to bed on Broadway January 18th. There is a national tour underway, so if you didn't catch it in New York, you'll still get a chance. Source: Variety.
Top Gear news: Top Gear Australia is being renewed for a second season. A Russian version is in the works as well. Source: Hollywood Reporter.