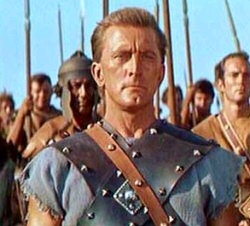 Because there's no sense in reading whole essays about how happy X is to work with Y on project Z. Pop culture news boiled down to a fine powder for you. You're welcome.
Spartacus again. Yes, but this time it's a thirteen-episode series for Starz. Sam Raimi is one of the producers and production starts next year to air in the summer. It's going to be shot using virtual sets. "This is not going to be at all like the 1960s Kirk Douglas film," Starz exec Stephan Shelanski said. "We didn't want your typical sword-and-sandals. It's going to be fun, fast-moving, full of action and interesting characters and have a little more depth to it than the 1960s film." That's an excellent way to get people on your side: accuse a classic piece of cinema of being shallow but hey, you're going to rock it like it should have been rocked. Uh-huh. Brilliant. Source: Hollywood Reporter.
You Life fans take note: William Atherton (aka Walter Peck aka Professor Jerry Hathaway) has signed up for an arc. Source: Variety.
Do you like our Stuff? You can subscribe to just this portion of the site and get the Stuff You Need to Know by using this newsfeed. Thanks for stopping by.