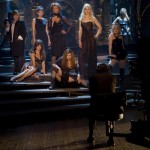 There's pop culture stuff out there. And sites that want to tell you about them. And we want to do it quickly so you can get on with your lives. You're welcome.
Okay, if I wasn't jazzed about the prospect of Nine, I am now that we've seen this first cast shot. The cast consists of Daniel Day-Lewis, Nicole Kidman, and Penelope Cruz, as we mentioned before. But as you can see there, we've got Marion Cotillard (La Vie en Rose), Judi Dench, Sophia Loren, Kate Hudson and Fergie from The Black-Eyed Peas.
The Beaver is a script about a guy who goes through life "with a beaver puppet on his hand, treating it as something close to a human creature with human feelings." Steve Carell is apparently attached to play the guy in question. Source: Hollywood Reporter.
Simon Jones, the voice of Arthur Dent on radio, has joined the cast of Blithe Spirit as Dr. Bradman. It hits the Shubert Theater in February. Source: Variety.