You have better things to do with your time than read long stories that could have been better served by cutting to the chase. We assume you do, anyway. We give you the benefit of the doubt. Enjoy.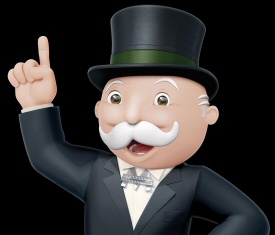 Did you ever think we'd be sitting here talking about a movie being made of the Monopoly board game? You did? Did you think that the scribe who did Corpse Bride would be on board for it–Pamela Pettler? Really? Did you think Ridley Scott would come on board and he has "an eye toward giving it a futuristic sheen along the lines of his iconic Blade Runner"? Are you there? Why are you drooling and your eyes have glazed over? Well, it won't help you to know that feature versions of Ouija Board and Battleship are in the works as well. Now you've fallen in the floor and are bleeding. What did you do that for? Source: Hollywood Reporter.
I'm going to make myself forget I ever saw this about the upcoming Snoopy: World War I Flying Ace game. Because if I were to remember it, I might break down and have to buy it. And I just don't have time to play it. But Christ, it looks cool.

Direct link for the feedreaders.

When it comes available for pre-order, I'll try and get a link up here for you. Found at

Kotaku

via

The Unique Geek

.

We point out Amazon sales to you when we think they might be of use, so here's a few that they're piling on for the holidays. They've got a bunch of deals apparently with Sony on PS3s and Blu-Ray players in their SonyHD store
, so I offer that link but didn't delve too much because I didn't want to give myself any ideas. They also have a DVD sale
going, and I normally don't link those up unless the titles in question are 50% off or more, because I'm a cheap bastard. But they do have stuff like Fargo for $7.99 and History of the World Part I for $7.49, so I'm thinking stocking stuffers. That sale's running through 11/24. They also have specifically a sci-fi sale
on DVDs, and this is where it gets interesting. I'll tell you that you need to consider these–they're either must-owns or titles that are cheap enough that they might be of interest to some of you:

That sci-fi sale is only running through 11/17, so your prices after that may vary. I didn't even touch upon the Doctor Who deals, because I feel unqualified to do so. So I would say check it out. Lastly, there's a sale on kids' stuff
that's running through 11/24.
Hope some of that is helpful.
Blown will star Sam Jackson as yet another bad guy. He's going to try to blow up London and Jim Caviezel will try and stop him. In an attempt to make this sound more interesting, read this sentence instead: Jules Winnfield is out to blow up London–and only Jesus Christ can stop him. NOW you want to see it, don't you? Source: Hollywood Reporter.
Just listened to Point of Inquiry's annual seance to attempt to contact the spirit of Harry Houdini. Mr. H was a no-show again, in case you were wondering.
Last Exit to Nowhere continues to create more awesome t-shirts than we can stand: this time they're tapping into Die Hard and…the shirt's black, what can I say?
Lego lost the trade-mark status on its blocks back in 2004 and the decision was upheld by a European Union court, apparently. "The EU's trade-marks agency said the brick was a functional, technical shape that was not one company's property." So anything that's a functional, technical shape is fair game now? Source: BBC.
Speaking of people having a hard time, Starbucks profits dropped by 97% in 4Q. Just damn. Source: MSNBC.
Do you like our Stuff? You can subscribe to just this portion of the site and get the Stuff You Need to Know by using this newsfeed. Thanks for stopping by.