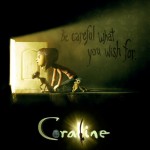 It's like Reader's Digest for entertainment news. But snarkier. Enjoy.
To the right there (click to embiggen) is the one-sheet for Coraline. If you need to know why you should see this, then check out my book review. Short version: Henry Selick + The Neil = potential for gold.
The Dark Knight has been disqualified for Best Musical Score because five composers are listed on the cue sheet. You can go read the article if you want, but I didn't understand it. If it makes any sense to you, come back here and explain it to me. Maybe they only have the budget to create three little statue-guys. I dunno.
On one hand, when I tell you that Steve Carell is going to voice the titular character of Despicable Me for Universal and Illumination Entertainment, you're probably going to yawn. I did. But then the synopsis got my attention: "Carell's title character is a deplorable man known as Groo who masterminds the mother of all heists when he plots to steal the moon. Egged on by an evil mother (

[Julie] Andrews), Groo finds one obstacle in his way: a trio of orphan girls who temporarily come under his care and won't leave."

Now

there's some potential. On top of that all, Russell Brand and Jack McBrayer (from

30 Rock

) are also in the cast. Russell Brand is, so far as we know, not providing the voices for the orphan girls. Expect the film in 2010.

Source: Variety

.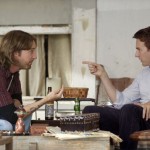 Do you like our Stuff? You can subscribe to just this portion of the site and get the Stuff You Need to Know by using this newsfeed. Thanks for stopping by.