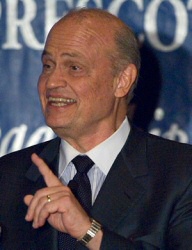 Every so often there's a story that warrants 500 words. These are not those stories. Enjoy.
Emo Boy is coming to the big screen. In case you don't know the comic, I admit I haven't kept up with it, but what I read of it was terribly amusing. The guy is so emo that he has emo superpowers. Kyle Newman (Fanboys) is set to helm. If Emo Phillips himself doesn't have a cameo, then there is no justice in this world. Source: Hollywood Reporter.
Al Gough and Miles Millar (Smallville) are going to helm their first feature for Disney: Salisbury. There's no word on what's about beyond some vague supernatural town thing, but I'm think we can rule out the involvement of both the steak and the hill. The one project of theirs we haven't mentioned before is Jungle Cruise for Disney. Yes, the Jungle Cruise you're thinking of. Source: Variety.
Do you like our Stuff? You can subscribe to just this portion of the site and get the Stuff You Need to Know by using this newsfeed. Thanks for stopping by.