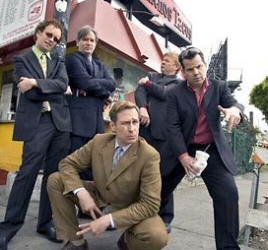 The Kids in the Hall are back with a new series in development called Death Comes to Town (working title) and might hit television in the fall of 2010. The whole crew is back to write and star in the eight episode series. They will each be playing multiple characters. So we've got a Canadian League of Gentlemen? Works for us. Source: CBC.
David Mitchell and Robert Webb (of Peep Show and, naturally, That Mitchell and Webb Look) are working on a new show called Playing Shop that sounds rather brilliant. "They play Eric and Jamie, who set up a business in a garden shed after being made redundant, convinced that everyone else involved in commerce are idiots." I know plenty of people like that, except for the bit about actually setting up a business–so that puts Eric and Jamie ahead of most, anyway. Pilot gets done this month. Source: Chortle.
Bettie Page has suffered a heart attack, is in critical condition and may be in a coma. This after getting over pneumonia. Damn. We owe her a lot. Hell, without her, ScottC might not even have a job. So. Our best wishes to her. Source: Variety.
In a bit of casting mastery, Samantha Who? is apparently getting Florence Henderson to play grandmother to Christina Applegate, making her Jean Smart's character's mom. Nice. Source: EW.
Saturday Night Live is getting a version produced in Spain, premiering the first part of next year. Apparently there's already an Italian version. Source: Variety.
They Live being remade? Apparently so. They're trying to work out a deal and nobody appears to be on board scribe and helmer-wise. This could actually work–but who do you cast? Who is the Roddy Piper of today? Wait…they're going to cast The Rock, aren't they? Source: Hollywood Reporter.