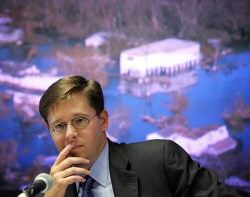 Why read all of the pop culture news and wade through what's important and what's not? We weren't sleeping anyway, so we did it for you. You're welcome.
Amazon's sale of the day is the Band of Brothers boxed set for 68% off. It's going for $25.99 today only and as long as stocks last. You can snag yours here if you're interested.
The head of the FCC appears to be a total fuck-up. Considering this is the FCC, I'm not surprised. He basically faked reports that would force cable companies to provide a la carte pricing to consumers. And in a match-up between cable companies and the government, man it's hard to find a horse worth backing, isn't it? You just sort of hope they wipe each other out in any war they endeavor to wage. Anyway, my favorite bit is in the article is this:

"It appears that the committee did not find or conclude that there were any violations of rules, laws or procedures following a yearlong investigation," FCC spokesman Robert Kenny said. "Chairman Martin has followed the same procedures that have been followed for the past 20 years by FCC chairmen, both Democratic and Republican alike."

So according to Robert Kenny, making shit up is a two-decade long legacy at the FCC. That's probably the most honest thing we'll hear from the government this week. Although it took them a year to figure out that somebody in the government was lying? Next we're going to get our tax dollars spent to prove that water is wet. Never mind, I think that's underway in a lab in Ohio right now.