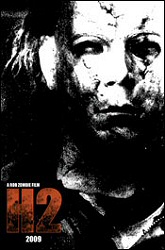 Amazon's sale today is for all three seasons of Arrested Development for 74% off its list price of $109.94. That makes it $28.99. Not bad. That of course is for today and while supplies last. You can snag yours here.
H2 is the sequel to the remake of Halloween, with Rob Zombie on board to scribe and helm and then the film's out next October. Filming starts in March. Zombie says, "Now, we'll be hauling ass, and that's the problem making a movie called 'Halloween': If you come out Nov. 1 or after, nobody cares. If it was called anything else, I'd be fine." It is called something else, Rob, it's called H2. Now you've got a film where everybody's going to be asking where the O went. Source: Variety.
Cheech and Chong are getting an animated movie? Apparently so. It's inspired by their classic comedy bits. "It's great to be doing a movie where Cheech and I never have to get out of bed or be on camera," says Chong. So are they just taking the existing bits and putting an animated version of Cheech and Chong speaking the bits? That being said, if Ralph Bakshi were to do a music video for "Earache My Eye" in rotoscoped style, admittedly, that would be awesome. Source: Hollywood Reporter.