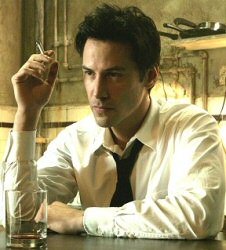 We are gathered here because lots of pop culture crap goes on in the world. You don't have time to keep up with it. Neither do we, but we drew the short straw. So here you go. Served staccato style.
Amazon has a bunch of discounts on bundled DVDs and exclusives. Go to the bottom of this post if you want to see the best deals I found on there. And remember: Valentine's Day is coming. I've done my shopping. I'm just saying.
Cowboy Bebop is hitting the big screen thanks to Fox starring…Keanu Reeves. Surprisingly, I sprung this on Doc earlier and he allowed that Keanu might actually be perfect for the part of Spike. Wild. Source.
Exit the King, the play that's already got Geoffrey Rush and Susan Sarandon on board, now has Lauren Ambrose and Andrea Martin as well. Now I want to see it even more. Geez.
In a move that makes us all misty-eyed (no, honest), Kevin Martin, current head of the FCC has resigned, rather than get fired by the impending administration change, I'm sure.
Google has signed an amicus brief in support of a case challenging California's Proposition 8 in that state's supreme court. Excellent.
Okay, so here's the Amazon DVD specials I found–and unless it's a really kicking deal, I'll try not to waste your time with it. The lowest discount was for the 24 sets–and at 49% I normally wouldn't include it, but I know we've got some fanatics for the show out there…
There's more sets and bundles on sale…see the full shebang here.