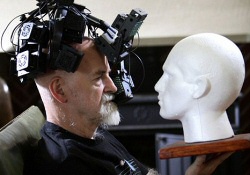 There's lots of stuff going on in the world, pop culture-wise. Entire sites bloat out the info to waste your time. We've got the same info in a fraction of the time and a single easy-to-read post. Enjoy.
Amazon's deal today is Band of Brothers on Blu-Ray. It's going for $34.99, which is 65% off the list price of $99.98. That is today, of course, and while supplies last. You can snag yours here.
Terry Pratchett is using a helmet that looks like something out of a retro-future sci-fi flick, but in reality "works by directing intense bursts of infrared light into the brain to stimulate the growth of brain cells." This to step up his war against encroaching dementia. No significant improvement yet, but at least it hasn't gotten any worse, reportedly. Fight like hell, Terry. Keep fighting like hell, man. Source.
The Extra Man is a comedy with Paul Dano, Katie Holmes, Kevin Kline and John C. Reilly. "Kline plays a failed playwright who works as an escort for rich widows on the Upper East Side. He develops a mentor-student relationship with a troubled aspiring playwright (Dano)." Filming starts next month in New York. Source.
Susanna Foster, who played Christine to Claude Rains' Phantom, died last Saturday of heart failure at age 84. Source.
The comic Scott Pilgrim vs. The World is being brought to the screen by Edgar Wright, in which a guy must gain the girl of his dreams by fighting her evil ex-boyfriends. Michael Cera is playing Pilgrim, Chris Evans will be playing the second evil ex-boyfriend, Lucas Lee, and Brandon Routh will play the third one, Todd Ingram, "a rocker with vegan psychic powers." Sounds like Siege's arch-foe. Source.
The claim is out that Ben Collins is The Stig from Top Gear. If correct, we could see the end of the second Stig and the introduction of a third Stig, no doubt in a touching regeneration scene. Source.
Veronica Mars coming to the big screen? Apparently. Rob Thomas, show creator, wants to write a movie with Veronica graduating college–this to be helmed by Joel Silver. This seems to be the Next Big Thing. Cancelled show heads to the big screen. Why wouldn't you go direct to digital and DVD, is what I'm wondering. Source.