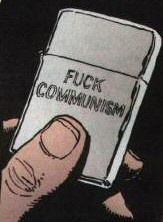 Some sites do nothing but regurgitate the contents of press releases and the main Hollywood press outlets at you all day long. We just do it once a day, maybe. If there's enough stuff of interest. And we do it in one fell swoop so you can get on with your lives. Who loves ya, baby?
Sweet creeping Jesus. Preacher lives. Preacher lives fucking big time. John August (who wrote what is probably my favorite Tim Burton film, Big Fish) is going to scribe it. And Sam Mendes (Road to Perdition) will direct–this after a bit of will he or won't he–and apparently he will. Although I am afraid since the synopsis Variety gives is it "centers on the preacher of a Texas town who is struggling to get by and is driven only by his strong moral sense. When the city is decimated by an otherworldly force, he embarks on a journey across the country to take on the evil." If by "take on the evil" they mean "seek out God to find out why he's abandoned his post," then I'm good with that. But you know that won't fly. Not in a feature film. August is apparently also scribing Dark Shadows at Warner Brothers, which I could have sworn I mentioned before.
Hell yes. Dead Snow got picked up stateside by IFC while at Sundance. Also, if you're in Germany, Benelux, the UK and Canada, you're in luck: it got sold there too. Should be out this year in the U.S. If you don't know what I'm talking about, go here. Source.