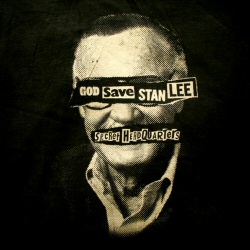 Some sites want to make you waste all your time on pop culture news. We do it in one post so we can move onto other things to waste your time with. Enjoy.
Stan Lee is being sued…by the shareholders of Stan Lee Media. They want three quarters of a billion dollars based on the profits from, among other things, Marvel films. Lee is a defendant, so is Marvel, so is Mrs. Lee, so is Avi Arad. The plaintiffs are stating that the profits belong to Stan Lee Media. How in the hell that's feasible, I have no idea. And didn't they already try this once before? Or did somebody forget to dot an I or something like in the Watchmen dispute and there's blood in the water? Source.
Kristen Johnston (3rd Rock) is considering coming on board Absolutely Fabulous U.S. to play Edina. Source.
Jennifer Beals (L Word) is joining the aforementioned Book of Eli. Source.