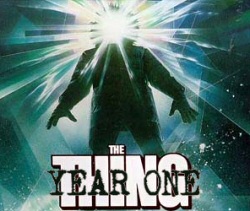 An entire website's worth of pop culture news in a single post. Because it's silly to rewrite press releases into 500 word articles…wouldn't you say?
I understand there's something or other called the Super Bowl happening today…or…something? All I know is that Amazon has got the Super Bowl I-XL collector's set for $54.99, which is 63% off the list price of $149.98. As always, it's good for today only and while stocks last. Click here to buy yours.
The Thing is getting a prequel where we find out the story on the Norwegian camp that got wasted before we joined our heroes. Since Norwegian horror seems to be taking off, I would be behind this if they shot it like one of the Norwegian indie films we've seen recently, like Dead Snow or Cold Prey. I would trust Norway to do this right before I'd trust Hollywood. Source.
The BAFTA nominee full list is now available here. Speaking of awards: wow, Kung Fu Panda was named best feature at the Annie animation awards.